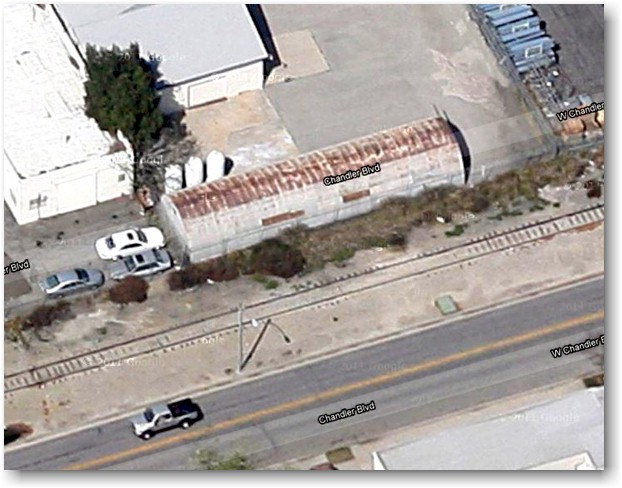 The Last Quonset Hut in Burbank
---
All hail the quonset hut, that utilitarian building made from corrugated steel panels which served for military use in innumerable places across America during the World War II Era and afterwards.
Wikipedia describes them thus: "A Quonset hut is a lightweight prefabricated structure of corrugated galvanized steel having a semicircular cross section. The design was based on the Nissen hut developed by the British during World War I. The name comes from their site of first manufacture, Quonset Point, at the Davisville Naval Construction Battalion Center in Davisville (a village located within the town of North Kingstown, Rhode Island, USA)."
There used to be many of these all over Burbank during World War II and afterwards, but, as far as we know, there is only one left in town now: it's located more or less at the intersection of Lomita and Chandler, adjacent to the (now unused) railroad tracks. It may seem odd to you, but I find it picturesque.
When I was a boy, drawing Captain Russian comic books (my swipe of Captain America), I located him at a place called "Camp Russian." He lived, appropriately enough, in a quonset hut barracks, just like the one I used to see near Chandler.
When I enlisted in the Marines in 1974 I was gratified to see that Gomer Pyle-style quonset huts were still being used in boot camp, by the second recruit battalion. I was even more gratified to be in the first recruit battalion, which had much more modern (and undoubtedly less hot) living facilities.
Mike and I will attempt to determine the age of this last quonset hut. But, really, shouldn't this venerable old building be on a Burbank Notable Structures List?
I'm only half kidding, you know.
Wes Clark
---
On 1/22/13 I received the following. Turns out I was wrong! - Wes
Wes,
Saw your piece on the Quonset Hut along Chandler.  Just wanted to let you know, there are three still on the campus of Burbank Water and Power, between the Olive power plants and the cooling towers.  They're hidden from public view, but they're still identifiable from the Google imagery here.
Just thought you'd like to add that on. 
BTW, thanks so much for your site.  If there's anything that we can do to help out any research you might be doing, please let me know.  - Todd R. Wilson, MPA, Public Information Analyst, City of Burbank.
Thanks for keeping me honest, Todd! - Wes
---