Carry On Kerry
by Jeff Hendershott
---
No "groupie" here, but when I have a chance to meet someone famous I tend to go for it, especially when it's an artist, athlete or actor I truly admire.
April 16th - I had one more such opportunity when I met my all-time favorite songwriter and musician Kerry Livgren. Who, you ask? For you hobbyists who are not in the struggles of middle-age like some of us, he's the guy who wrote two timeless rock-n-roll classics: "Dust in the Wind" and "Carry On Wayward Son." He was a member of the band Kansas, one of the hottest bands in the 1970's.
OK, I know - this isn't Eddie Van Halen or Mick Jagger or one of the Fab Four for that matter. But to me, Kansas was and IS my Fab Four (well, Fab Six). I've had the chance to meet all the members of the band in recent years as they continue to trek the country (and Europe) with their unique music that can rock at one moment, and become a mish-mash of violins and keyboards the next. Kansas may be the most original band to ever come out of the United States (an unbiased opinion, believe that or not).
But Kerry Livgren only plays with Kansas on stage occasionally. He spent his post-Kansas days making a mark in the Christian Rock arena, currently producing such acts out of his studio in Topeka. More recently, he's touring with his re-born band called "Proto-Kaw." I say "re-born" because THIS band was actually the ORIGINAL Kansas back in the early 70's. Long story short: Kerry left them for the Kansas we all know, and a few years ago got these guys - who went on to be teachers and football coaches and businessmen and television producers - back together to take their 30-plus year old progressive rock on the road. They also last year recorded their FIRST CD and are working on a new one. In short, all these guys took a 30 year break from music sans Kerry, who went on to make his mark on the music industry.
Sooooooo… since they played in Cleveland recently, a mere hour from home, I loaded up the wife and kids and some friends and headed to Cleveland. I had been in email contact with Proto-Kaw keyboardist Dan Wright (a heck of a nice guy and the ONLY person who has been in all of Kerry's bands - save for the "famous" Kansas) and he assured me I'd get to meet Kerry.
What's all this got to do with the Civil War? I'm getting there...
So, we get to the "jazz club" in Cleveland, a small affair typical of any bar. Nothing unique about it. We run into Dan Wright and the other members of the band, all real nice guys. I finally get around to asking him "Where's Kerry?" Wright gleefully leads me back a hallway and opens a door to the bar office. On the couch sits my hero! Feet propped up on a table, sitting on a couch, and picking at an acoustic guitar that looks like something I owned as a teenager.
Dan introduces me to Kerry and leaves the room. I chit chat with Kerry - yeah, me and my ole buddy Kerry Livgren! - have him sign autographs as we talked about some of his songs and music. WOW! What a nice guy! Soft spoken and may I say, shy. Just as nice as could be. I ask him if he minded if I have my family back to get some pictures and he says "sure." That's after I made damn sure we were not intruding on his "space" (when you reach middle age, you tend to be more conscious of things like this - were I younger, I would have probably worshiped in his presence by kneeling at his feet...)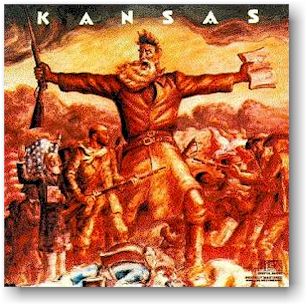 So we get our pictures with our new pal Kerry, make some small talk, he tells us how his son is into country music, how farming takes up a lot of his time outside of music, just common talk. Zillions of questions came to my mind like "Hey Kerry, what was it like to play in front of 50,000 people when you toured with Queen" or "Tell me about how you guys opened for the Doors during their last live show with Jim Morrison in New Orleans?" Here we were talking about farming and how important it is after all these years to keep practicing playing guitar!
Then they played. There we are, in a bar in Cleveland, Ohio sitting not 15 feet watching my musical idol play guitar and keyboards! It was surreal, ethereal, and it still seems like a dream. And those guys put out one killer show!
OK, the history. Well, maybe it's a bit of a reach, but if you know anything about Kerry Livgren's music, or should I say lyrics, you will know (and if you didn't know you do) that he didn't write your typical "boy falls for girl" stuff. He was - and still is - all over the board.
For starters, Kansas first album released in 1974 had my all-time favorite historical painting on its cover. I have no idea what the name of it is, but there's a huge rendition (maybe the original) in a museum at Harpers Ferry. This is fitting, since the painting features John Brown in the center (note the fallen Union and Confederate solders at the bottom of the painting).

Many of Kerry's songs (since he was the chief writer for Kansas) did have a historical theme to them. "Song for America" talks about the European arrival to North America. "Cheyenne Anthem" is a killer song Kerry wrote after he read "Bury My Heart At Wounded Knee." "Portrait" paints a musical portrait of Albert Einstein and "Closet Chronicles" does the same about Howard Hughes. More recently, Kerry wrote all the music and lyrics for Kansas' 2000 CD "Somewhere to Elsewhere" and the song "Icarus II" is a song about a World War II pilot. By the way, a portion of the proceeds to this CD Kansas donated to the building of the World War II monument in Washington, D.C. "Byzantium" is about an ancient city in what is now Turkey. "Curtain of Iron" is pretty self-explanatory.
I suppose you could drag in more of his work in the Christian Rock field where he explores more ancient history and Biblical themes.
But you see, it's occurring to me that maybe Kansas and Kerry Livgren in particular tapped into the historian in me. Or maybe - but probably not - I fell in love with history because of my love for their music. Who knows and who cares? And why do I feel compelled to talk about this? Who knows and who cares?
Sort of feels like when I tried to explain "why" I reenacted the Civil War. I gave up when I finally realized that "it just IS the way it is." Some things are better left unknown.
---
Postscript by Jonah Begone: The painting Jeff refers to on the cover of the Kansas album is "The Tragic Prelude," by the American regionalist painter John Steuart Curry, from 1942. The original is presently in the Kansas state capitol building in Topeka. I think it's excellent, too; an allegory of real power and impact. I love the over-sized John Brown, his beard blowing in the wind, the storm clouds and the alpha and omega on the Bible pages - great stuff.
A good website about the artist and the painting is here. Note: "In 1940, the Kansas Council of Women passed a resolution objecting to Curry's depiction of Kansas with "freaks, tornadoes, and John Brown," rather than as a "law-abiding, progressive state." In the press, there was skepticism and ridicule of all of Curry's murals. In 1941, the Kansas legislature passed a resolution that prevented Curry from completing his trilogy of murals. In great disappointment, he left them unsigned."
All I have to say to that is, "Nobody ever erected a statue to the memory of a critic." - Jean Sibelius
---