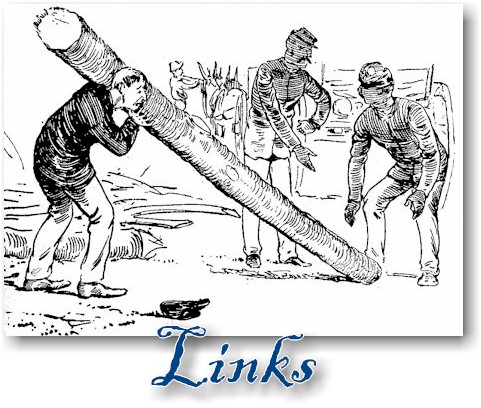 ---
The Camp Chase Gazette
The Voice of Civil War Reenacting since 1972; the main page is here. They used to print my articles before they became humor-impaired and boring.
---
From a Young Reader
HOBBIES THAT TEACH: HISTORICAL REENACTING. Lots of links on this page...
---
Civil War Links
From Cotton to Tee Shirts: The Role of Cotton in the Civil War.
The Young Campaigner.com - ...geared towards young people in Civil War reenacting.
A Hello to Arms - One of Roadside America's Virginia sites, this one features a photo of Dan Sickles' leg bone and a ghastly trophy found at Antietam, the "Arm of the Unknown Soldier." Also shows Stonewall's arm's burial site.
---
Reenacting
Anthony Farrow, a pard of mine in Britannia, suggests PhilFraser.com for 14th/15th Century accoutrements. So if you have a yen to reenact the War of the Roses, drop him a line!
---